Cu mai putina drama decat pe Facebook,  si o interfata mai prietenoasa, Instagram-ul aduna din ce in ce mai multi utilizatori. Din punct de vedere al pozelor postate, eu m-am mutat aproape integral pe Instagram (follow contului meu, @oana_ral, daca vreti sa vedeti despre ce postez) si incerc sa invat si sa ma documentez constant despre ce pot face pentru a avea un continut interesant si original. De aceea ma bucur la aparitia fiecarei noi editii World of Instagram, pentru ca mereu plec cu informatii utile si idei noi (despre cum a fost la editia IV, puteti citi aici)
Editia a V-a World of Instagram, va avea loc saptamana viitoare, miercuri, pe 27 iunie, incepand cu ora 18:00, in una din cele ma frumoase gradini urbane din Bucuresti, Gradina Dorobanti. Aceasta editie vine cu cateva noutati, printre care si o parte practica, respectiv un workshop de fotografie, sustinut de Mihnea Ratte, o discutie cu Marian Ionescu, aka Mariciu, care ne va povesti cum este sa te imparti intre cele doua tabere (si agentie si influencer), iar Andreea Balaban ne va povesti despre cum a reusit să adune o comunitate atat de frumoasa si despre cat de greu este sa ajungi aici, ce a sacrificat si ce eforturi a depus.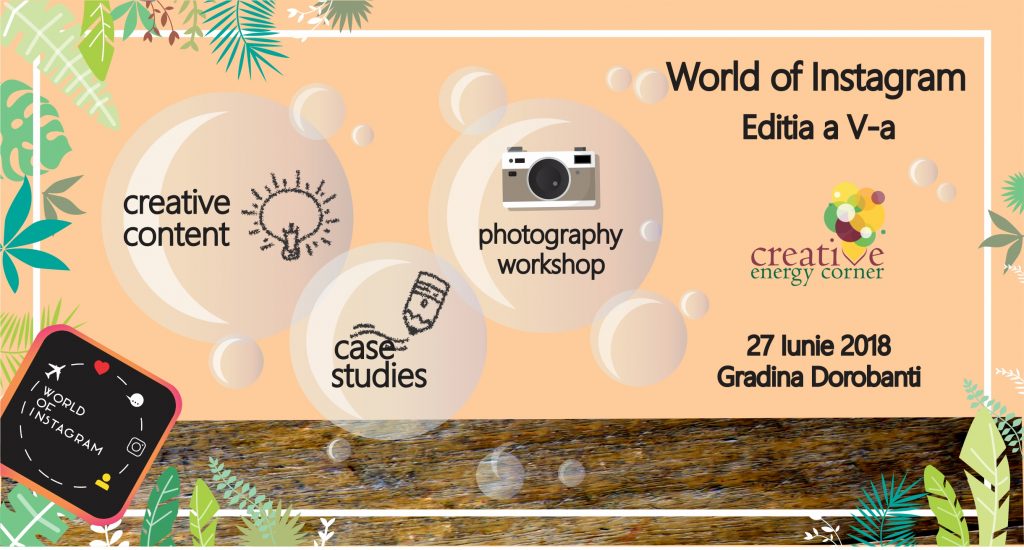 Detalii despre program si inscrieri, sunt disponibile la https://worldofinstagram.energycorner.ro/ .
Participarea la acest eveniment este gratuita, in limita locurilor disponibile.
Evenimentul World of Instagram este organizat de agentia de publicitate Creative Energy Corner. Mai multe detalii despre proiect gasiti pe pagina de inscriere la eveniment sau pe pagina de Facebook World of Instagram.
Please follow and like us: